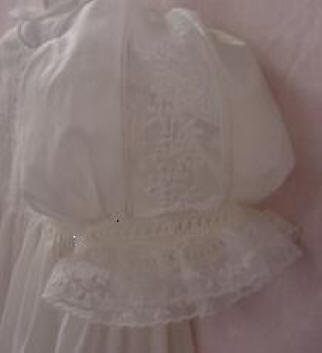 Here is your supply List for this dress:
This is using the skirt width of 72"
Large Net Edging- 5 yards
Small Net Edging-1 1/2 yards
Insertion Netting- 5 1/2 yards
Embroidered Insertion-3yds
Fancy Entredeux Beading- 5/8 yard
Lace insertion bottom- 8yds
Lace insertion top- 2 yards
Entredeux- 12 yards
Ribbon 1/8 - 2 yards
"Gabriel"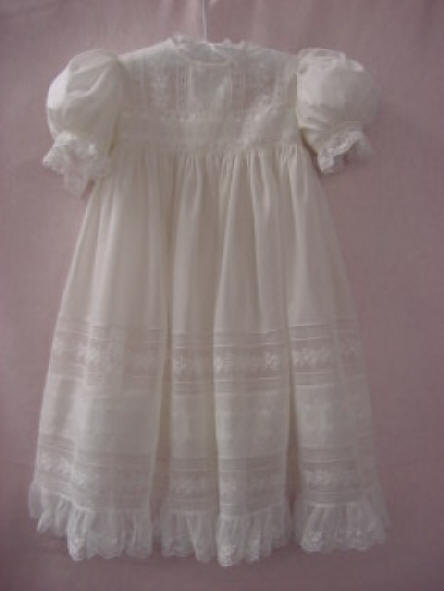 We will include construction steps and a reference list for techniques of french sewing with the purchase of the materials and lace for this dress. Also any correspondence by e-mail needed to help.
Material Needed depends on the length needed:
with this size 4 dress and finish length of 27" you need 1 yard of material.
If you need 2" longer add 4" more material , 3" longer add 6" so on and so on.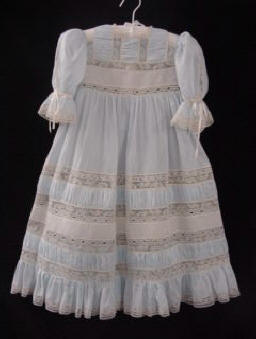 "Blue Mist"
One of my favorite things to do is to sew lace to fabric!!
I love to shirr fabric into yards of puffing , then roll it into a reel that takes up half of my sewing table!!
Fabric:
Geiger blue Swiss batiste
Pattern:
PBJK's yoke dress ( long yoke was shortened to finished 1" under the arm
"Natalie" by Children's Corner

Playing with Hankies!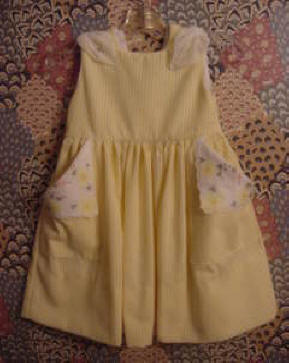 View A Natalie was made using yellow seersucker check and white pique contrasting fabric.
We used 2 Madeira handkerchiefs for the pockets, back flaps & bows on the shoulder.
White whipped piping was used at the neck, waist, top of pockets, arms eye & the back flaps.
White daisy buttons with yellow centers finish the back of the dress.
Here are 2 other colors the handkerchiefs come in. They are slightly different but each has a main design corner for the pockets and 3 other corner designs for the back flaps and bows.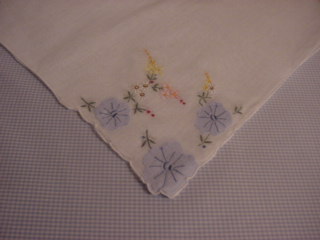 Blue/or Pink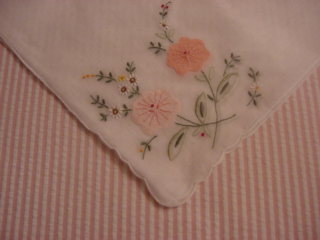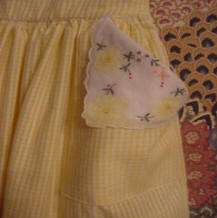 Here is a closer view of the pockets and the back of the dress. This pattern comes in sizes 1 thru 12, 2 sizes per pattern.
The bows on the shoulders were made from the 2 small unused corners of both handkerchiefs. I hand basted the two corners together and wrapped another spare piece around the center to make the bows