"Rebecca Lynn"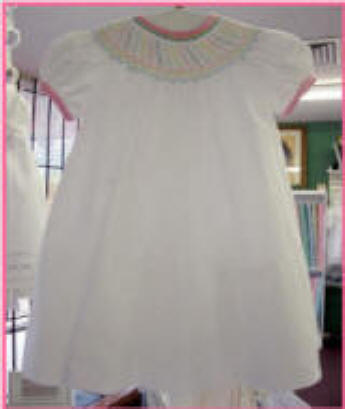 One of the three newest additions to the Peanut Butter-n-Jelly Kids Smocking Collection!
Rebecca Lynn is made up in another new addition to our Swiss Fabric Line, we call it Dress Weight Swiss batiste. This Swiss is the fabric that all our really fine Swiss embroideries are made on! Yes, you now have a fabric to match in weight for making french sewn dresses with a lot of Swiss insertions.
This dress is smocked with Madeira Mouline` Threads, 2401, 0614, 0110, 1113, 0910. We used the Hot Pink 60" pima Check for the bias bands. Pattern for the dress is Ellen McCarn's Ultimate Bishop.