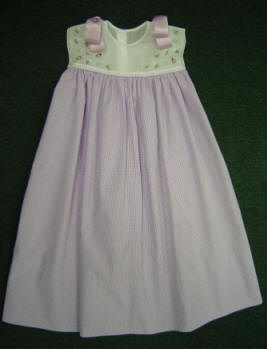 So sweet & simple!

Instructions to make Handkerchief Sundress
You need your favorite yoke dress pattern and a wonderful handkerchief!
Step 1. (The Skirt) Cut your skirts out and construct side seams.
Cut out armhole curves and finish then with a bias.
Make 6" slit in center back skirt for the placket. (we are not ready to finish placket now , wait just a little.)
I went ahead and hemmed my skirts now.
Now run 3 rows of gathering threads across the tops of each skirt piece. Pull up skirts to fit front and back yoke pattern pieces. Tie threads to secure size.
Now with a 3/4" lace insertion I bound the tops of the skirts just as if the lace was a piece of bias binding. Sew with a straight stitch and then go back and do a wide zig zag stitch.
Step 2. (The Yoke) Fold handkerchief in half and cut into 2 equal pieces. (horizontally)
Take one piece of the handkerchief and center the front yoke pattern piece. Put the bottom of the pattern to the bottom hemmed edge of the handkerchief. Draw off neck and shoulder lines only! Cut away these 2 areas only.
Fold remaining handkerchief piece in half and place the back yoke piece to the bottom as you did the front. ( put pattern's center back line on the fold of the handkerchief, we don't use anything past the center back.)
Draw and cut neck and shoulder edge again.
French seam the shoulder seams.
Attach the skirts by top stitching the yokes to the top finished edge of skirts.
Step 3. Put a wide continuous lap from the top of the back yoke into skirt and back the other side of back yoke.
Finish neck with a french bias.
Use 3 1/2" buttons for a back closure.

A closer look a the yokes.
You can barely see the lace binding on the skirts under the handkerchief.
The width of the continuous placket is great.
Look at the top stitching for yoke to skirt placement.