Lesson #6
"Hand Towel Collar Dress"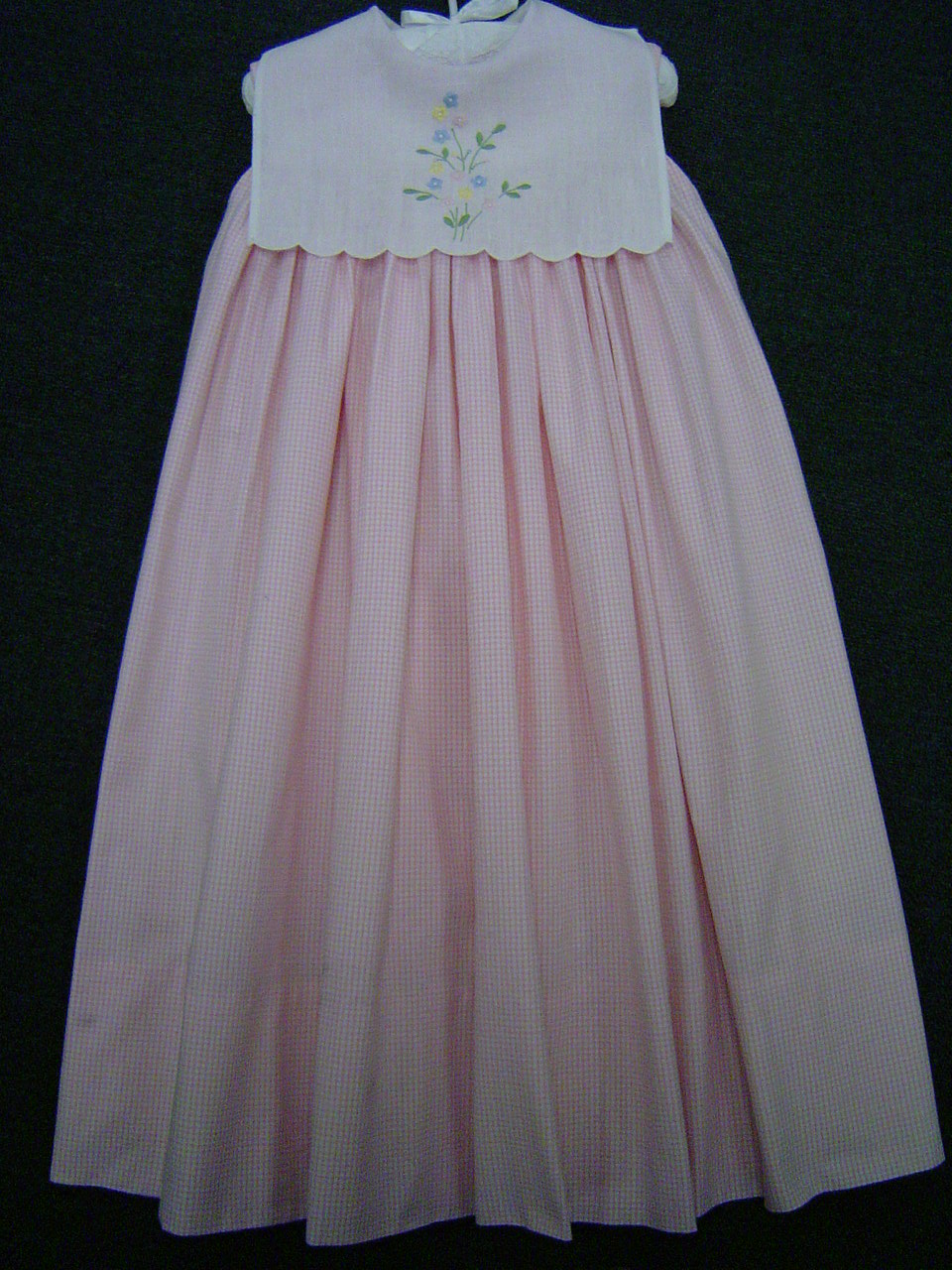 Before I get into the instructions for this collar, I want to talk about the dress. The dress under the collar is PBJK's Yoke Dress and Pantaloon pattern (high yoke view). We left off the sleeves and bound the arms with a bias of the same fabric of the dress. The dress buttons all the way down the back with 3/4" white plastic buttons. The fabric is Spechlor Vogel's Pink seersucker check. This collar is Hand embroidered from the islands of Madeira.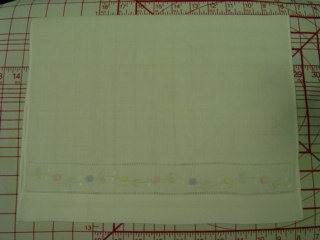 (Linen w/pink,blue & yellow Bullions)
First you need a embroidered hand towel! This one is Linen with pink, blue & yellow Bullions with green padded leaves. The price is $6.00! Fold the hand towel in half as shown, and crease.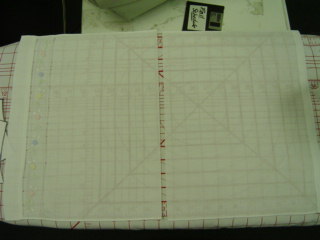 Cut the towel along the crease line.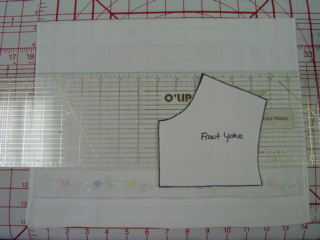 Lay the two pieces together for this step. At this point I decide on the depth of the collar. I most commonly measure 2" deeper than the actual yoke pattern. Square off with your ruler across the top and mark along the top of the ruler. Cut off using the marked line.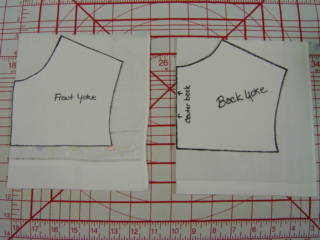 Take the two pieces apart and fold them in half to create a center front fold and a center back fold. Please note that the back yoke pattern piece used is drawn using the center back line only, the lap as been ignored. Place the pattern pieces on the two pieces, lining the highest part of the shoulder seam to the edge of the fabric and the center front and center backs are on the fold.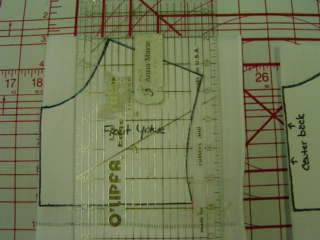 Using your ruler again, square the side, 1/2" off the shoulder. Mark with a line, do this to the back also.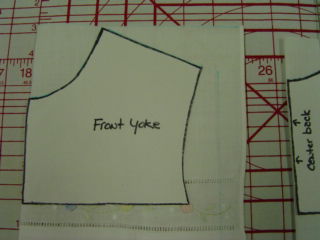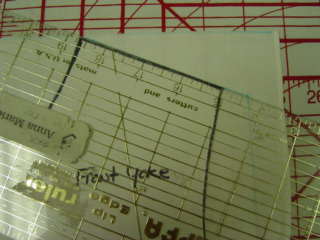 Connect the slant of the shoulder seam to meet the side line drawn.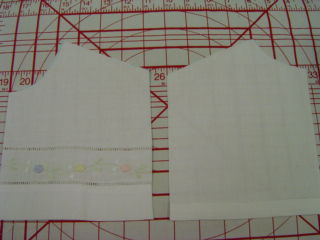 Cut using the lines you have drawn.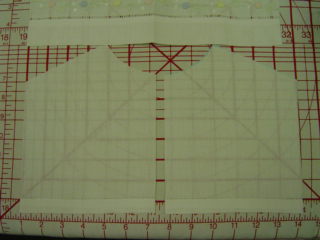 Open the back piece up and cut down the crease made from the fold.

French seam the shoulder seams. A small roll hem will finish the shoulders and the center backs. How much easier can that be!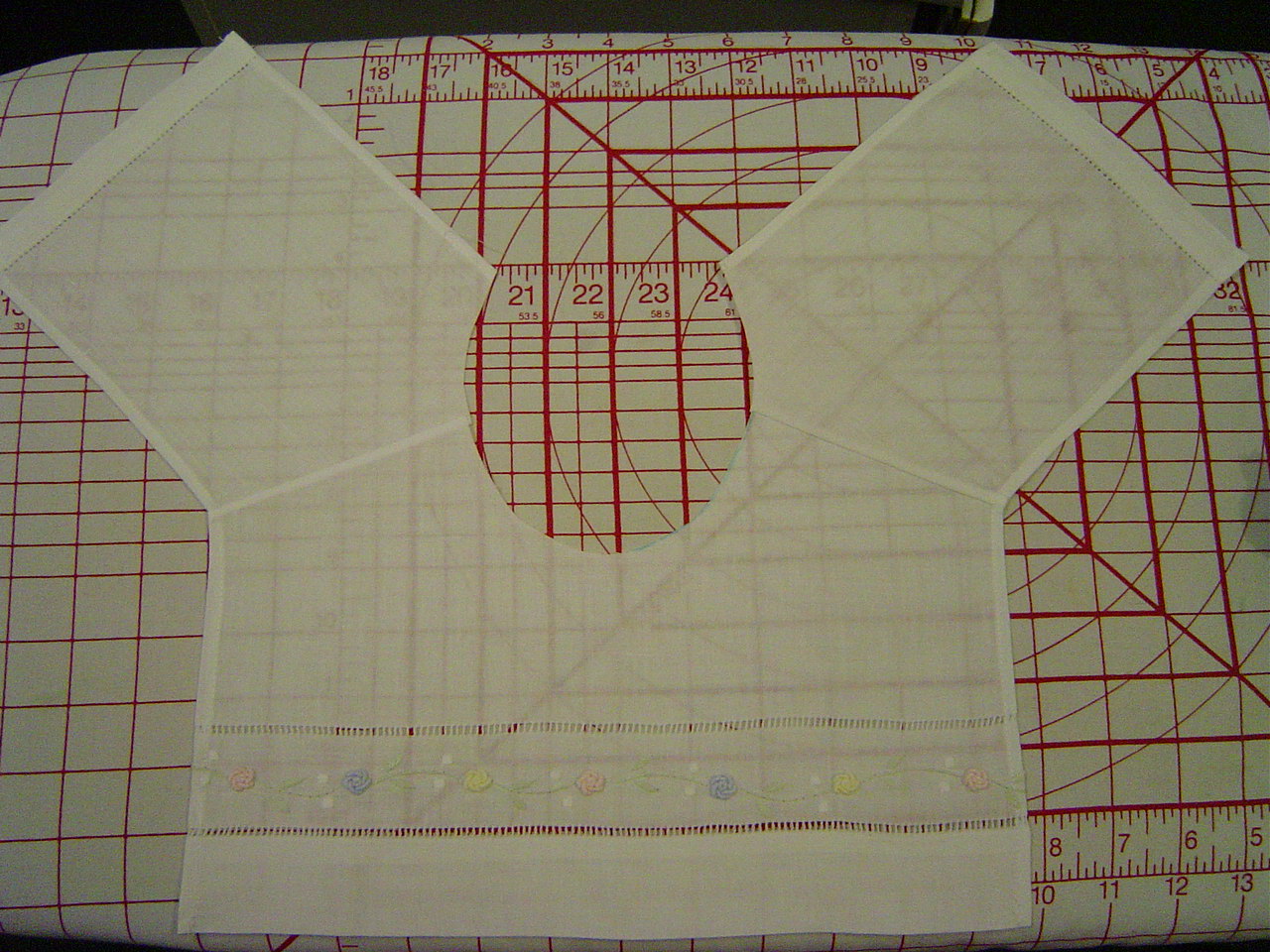 Attach collar to the dress with a bias.

Hope you enjoy this project.
"The collar shown on the dress is a Madeira embroidered hand towel and they cost considerable more than the orient imports." We love to share sweet finds like this Bullion hand towels with our customers.